Britain Yearly Meeting Gathering took place at the University of Bath from 2nd - 9th August 2014. The week-long residential gathering for Quakers throughout the UK and for overseas visitors attracted over 2,000 participants, with separate programmes for children and Young Friends who were present in large numbers.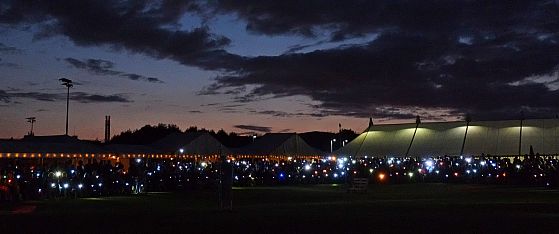 Epilogue, Monday 4th August
Photo: Fran Lane
The film Living Adventurously was shown to welcome participants to Yearly Meeting Gathering and to allow them to find out about Quakers in the South West.
The Epistle was read out during Meeting for Worship on Sunday 10th August at all Local Meetings in WWES Area Meeting:
Epistle from Britain Yearly Meeting Gathering held at the University of Bath 2 - 9 August 2014
To all Friends everywhere,
We send our loving greetings from Yearly Meeting Gathering. Over 2,000 of us have come together as a community of all ages, "to see one another's faces and open our hearts one to another". Our theme of 'Commitment and Belonging' was the culmination of a three-year process of exploring what it means to be a Quaker today. It led us to look inwards at the meaning of membership and outwards to our service in the world...
The Legacy Garden was created during the week on the campus and will remain as a tangible expression of our hope for future generations.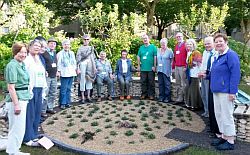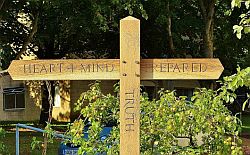 Photos: Colin Billett, Tim Cook.
Photos on this page and many others can be found on the BYMG Facebook page.
Some events which took place in Bath during Yearly Meeting Gathering:
First World War Centenary, Monday 4th August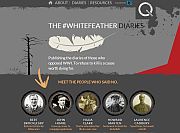 The White Feather Diaries project was launched at Bath Friends Meeting House on Monday 4th August, the centenary of Britain's entry into the First World War.
Over the next two years, the project's website will publish diaries from five Friends who refused to support the war, giving us the opportunity to find out about how their beliefs affected their lives as the war progressed.
The project is now live: find out more at www.whitefeatherdiaries.org.uk
Quaker Tapestry Exhibition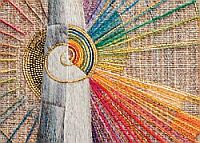 Twenty panels from the tapestry which tells of Quaker beliefs, history and events were on display in Bath for two weeks in August; fifteen of these in the Friends Meeting House and five in Bath Abbey.
The exhibition attracted a large number of visitors to both venues.
You can find out more about the Quaker Tapestry at www.quaker-tapestry.co.uk.